World Smile Day – October 6
Straight Teeth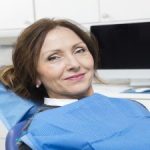 At Thousand Oaks Dental, we treat our patients with different forms of gum infections and disease such as gingivitis and periodontal disease. Dr. Precious Thompson offers treatment plans for patients suffering from the harmful effects of gum disease.
November is American Diabetes month. Diabetes affects over 20 million Americans. Dr. Thompson is thankful for that the month of November is set aside to highlight the special dental considerations affecting her patients who have diabetes. If you or a loved one has diabetes, you are at a higher risk for gum infections. This risk is due to the fact that diabetics have increased bacterial production from higher glucose levels in saliva.
Signs to watch for that indicate you may have gum disease:
Bleeding gums
Dry mouth
Mouth soreness
White patches on the inside of your mouth
Bad breath or taste in your mouth
If you have diabetes and are experiencing any of these signs or symptoms, it's time to book an appointment with Dr. Thompson at Thousand Oaks Dental. Dr. Thompson will take her time identifying any periodontal issues during your free consultation. She will suggest a plan to proceed to keep you on a healthy dental journey with your diabetes in mind.
Call and book your dental appointment with Dr. Thompson today. For patients who suffer from diabetes, we recommend maintaining regular six-month dental appointments to ensure proper care and health of your mouth is maintained.
Posted on behalf of Thousand Oaks Dental