4 Last-Minute Tips for a Wedding-Ready Smile
Oral Cancer Screening Could Save Your Life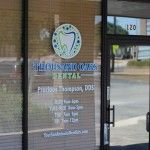 When it comes to keeping your smile healthy, should your family visit a general dentist, or opt to go to a multi-specialty clinic for your care?
Here are just a few reasons why so many people choose Thousand Oaks Dental for their ongoing oral health needs:
No Referrals Necessary
From checkups and cleanings to complex root canals and braces, a multi-specialty clinic like ours allows you to take care of all your treatment in one convenient location. There is no need to wait for a referral to get sent through, records to be transferred, or an approval from your dental insurance company. If you need a specialist's level of care for a serious dental problem, it's a comfort to know that they're working under the same roof as your family dentist.
Fewer Dental Appointments
Why drive all over town and take extra days off from work to visit two different dental offices? Our Thousand Oaks multi-specialty clinic can combine services within a single office setting, so that your time is used more efficiently.
High-Quality Care at Affordable Rates
Perhaps you need advanced treatment that goes beyond the scope of a general dentist. Instead of fearing how much it will cost to visit a specialist across town, you can feel relieved to know that our practice runs more efficiently with multiple specialists within our own office. This helps reduce the number of staff that we need, keeps overhead down, and delivers quality therapies without the hefty price tag.
Call Thousand Oaks Dental to schedule a visit with our family dentists, orthodontist, periodontist, oral surgeon, or endodontist today!
Posted on behalf of Thousand Oaks Dental