Reasons You May Have A Chewer In Your Family
World Smile Day – October 6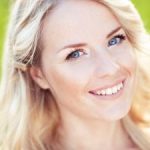 At Thousand Oaks Dental, Dr.Thompson offers many cosmetic dentistry options with you in mind. She offers services such as veneers, porcelain crowns, composite fillings, teeth whitening and cosmetic bonding. Each of these options are designed for her patients to enjoy a smile that satisfies their expectations of what a proper smile should look like.

Teeth whitening is one of the cosmetic dentistry options that has you in mind. Dr. Thompson knows that, just like the sun during the eclipse on the 21st, you don't want your bright white to be covered up and have dark shadows. You want your naturally youthful bright smile to come back erasing years of aging. Over the years foods and drinks can give your teeth a grayish or yellowing shadow or tint. This discoloring can actually add unwanted years to your appearance.
At Thousand Oaks dental we know you want a safe and effective teeth whitening process. That's why Dr. Thompson chooses professional teeth whitening methods. Grocery stores sell dizzying amounts of teeth whitening products. However, they are not professionally administered or monitored. They may offer you some satisfactory results, however they could be harming your teeth in the process. You will be able to be rest assured that Dr. Thompson's process is safe for your teeth while giving you white, brighter teeth in less time than most over-the-counter products on the market today.
Call and discover how Thousand Oaks Dental can make your smile whiter and brighter through Dr. Thompson's professional teeth whitening methods of either chair side or take-home processes.
Posted on behalf of Thousand Oaks Dental