Porcelain Veneers in San Antonio
Thousand Oaks Dental is Your Dentist in San Antonio
A lot of people are scared of visiting their dentist in San Antonio. They worry about experiencing pain, panic, or discomfort while receiving treatment in the dentist's chair. It's a fear that can stop them from attending the dentist at all, leading to more severe dental issues in the future. 
The great thing about modern dentistry, however, is that it has found ways of bypassing patient's fears and helping to make the experience much more pleasant. Here's what you need to know.
What Is Sedation Dentistry In San Antonio? 
If you're worried about going to the dentist, sedation dentistry can help. It's a special type of dentistry that allows you to feel more relaxed while receiving treatment.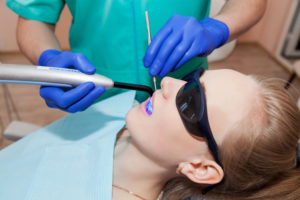 Sedation dentistry is different from using an anesthetic. With an anesthetic, you're entirely unconscious 
while your dentist works on your mouth. With sedation dentistry, however, you're still mildly conscious, but you feel more relaxed about everything that's happening around you. You remain aware that your dentist is carrying out treatment, but you don't experience fear or panic, as you might if you were fully awake.
Sedation dentistry, therefore, is excellent for people who don't like the idea of tooth extractions, root canals, or dental implants while they're awake. It's a safe and effective method to help you feel more relaxed while you receive treatment. 
It's important to note that sedation dentistry is not a substitute for an anesthetic. Whenever your dentist works on your mouth, they'll still apply a local anesthetic to ensure that you don't experience any pain. The primary purpose of sedation dentistry to help you feel relaxed and in control while in the dentists' chair. It's something that takes away your feelings of fear and anxiety, making the whole experience easier for both you and your dentist. 
When Can I Use Sedation Dentistry In San Antonio?
The great thing about sedation dentistry is that it's both versatile and safe. Some risks come with using a general anesthetic. What's more, it can leave you feeling tired for days afterward. Sedation dentistry in San Antonio, Texas, however, is a far more routine intervention that helps you to feel relaxed, without eliminating your conscious experiences. 
Furthermore, sedation dentistry is incredibly versatile. You can use it in conjunction with a wide variety of procedures, helping you to feel more comfortable as you receive treatment. 
The goal of modern dentistry should be to improve a patient's quality of life. If you're worried about an upcoming dental treatment, then it's just what you need. 
What Type Of Sedation Dentistry Does Thousand Oaks Provide?
At Thousand Oaks Dental, we offer patients in San Antonio, Texas, sedation dentistry as an option alongside a wide variety of procedures. We use nitrous oxide – sometimes called "laughing gas." Over the years, nitrous oxide has proven to be a safe and effective method for providing sedation. It keeps patients awake during treatment while also helping to alleviate persistent feelings of anxiety. It's a great way to make your experience at the dentist much more relaxing and pleasant. Try it for yourself today!