Scared of the Dentist? Try Sedation Dentistry in San Antonio
Thousand Oaks Dental
Finding a dentist that you love and trust in San Antonio, Texas, can be a challenge. While all dental practices have to meet certain minimum requirements, there can be vast differences in the quality of patient care from one to the next. Some establishments do the bare minimum, while others go out of their way to ensure patient satisfaction.
If you're looking for a San Antonio dentist, then you've come to the right place. Thousand Oaks dental gives you what you've always wanted from a dentist: a friendly, reliable, safe, and patient-focused service that offers the latest treatments. 
Why Thousand Oaks Should Be Your San Antonio Dentist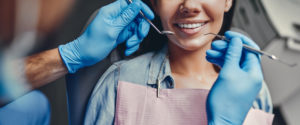 Patients in San Antonio are learning that there is a vast difference in the quality of patient care offered by different dentists across the city. While some, like Thousand Oaks, provide comprehensive services, others don't, creating confusion, annoyance, and referrals. 
Thousand Oaks offers a wide range of treatments, including general dentistry, cosmetic dentistry, orthodontics, periodontal care, preventative medicine, sedation dentistry, restorative dentistry, and emergency care. The comprehensive service that we offer means that you can get all your dental treatment in-house: there's no need to travel to another clinic. This fact means that you can build relationships with individual dentists at a single practice without having to go to new and unfamiliar places for treatment. 
If you want a beautiful smile, then Thousand Oaks is the ideal San Antonio dentist. We offer a wide variety of techniques designed to boost the appearance of your teeth and help you feel more confident. 
Veneers are one of our most popular procedures. We place a small, nail-sized piece of porcelain over the front of your teeth to cover up misshapen teeth, chips, and discoloration. 
You can also get composite fillings. These fillings don't look like traditional amalgam. Instead, they're white, just like the surrounding teeth, making them practically invisible while protecting you from further decay. 
With us, you can also get porcelain crowns, teeth whitening, and cosmetic bonding (if you want to close the gaps between your teeth). 
Thousand Oaks Is Your Dentist in San Antonio, Texas
Thousand Oaks Dental is a dental practice with a difference. It's not just about the treatments themselves (although these are important), but also about the experience too. We want you to feel like you've come to a home away from home. That's why we offer plush seating, beautiful surroundings, and friendly staff. 
We also understand that you want a dental practice in San Antonio that is available to provide care at times that are convenient for you. While many clinics insist that you get the treatment that you need during regular office hours, Monday to Friday, we don't. With our flexible opening times, you're able to get the treatment that you need fast, and at a time that's convenient for you. 
So, in conclusion, what have we learned? We've discovered that Thousand Oaks, a dentist in San Antonio, Texas, offers a comprehensive and patient-focused service. We've also found out that the practice provides a variety of state-of-the-art treatments all under one roof. Both of these factors should make it your first choice.