Have No Fear, for Sedation Dentistry Is Here! – San Antonio, TX
Know About the Importance of Your Gums – San Antonio, TX
No matter how a person takes care of their dentures, the oral device is not a permanent restoration. It can wear out over time. Besides, some other factors may necessitate the wearer to replace their old restorative device. How can people tell if they need to switch to new dentures? Here are the signs:
Pain and discomfort that appear persistently
A worn down denture can lead to TMJ disorder. This condition causes chronic pain or discomfort such as headaches, facial nerve pain, persistent jaw pain, and earaches. Dental professionals require patients to bring their restorative appliance to the clinic and have it checked.
Cleaning Hassles
When dentures do not fit tightly to the gums, it is possible for the food particles to gather in the gaps. Wearers will find it a challenging task to clear these residues, therefore. Dentures that trap foods need to be replaced right away—doing so will not only make the person's cleaning activity smoother, but it will help decrease the risk of bacterial growth as well.
Chewing Problems
Switching to a new denture is preferable when the said restorative appliance no longer serves its purpose which is to restore the wearer's chewing function. People may compromise their overall health if they continue to stick with their wonky dentures.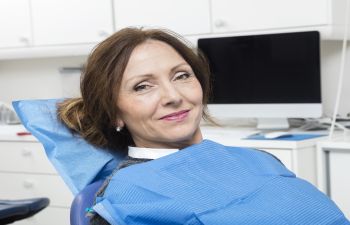 Get A New Denture Now!
Dentures are bound to make the wearers daily function easier and comfortable—not the other way around. So if you notice some problems with your old oral device, replace it now!
We at Thousand Oaks Dental offer dentures services in San Antonio, TX. For denture-wearers who are no longer happy with the performance of their teeth replacement, you are welcome to avail a new denture in our dental office.
Our practice provides two types of dentures: Partial and Full. The first option is suitable to those who have lost a single or few of their teeth while the other alternative is for people who do not have any remaining teeth left either on the top or bottom jaw.
Are you ready to replace your old teeth replacement? Avail our Dentures in San Antonio, TX. Set an appointment with us at Thousand Oaks Dental. You may visit our clinic at 2235 Thousand Oaks Dr. Suite 120 San Antonio, TX 78232.