Dental Checklists
Are Dental Veneers Right For Me?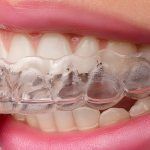 Valentine's Day is a time to show some love to your sweeties. It's also a time to show some love to your overall health. Did you know that by not caring for your teeth, you could be jeopardizing not only your dental health, but your physical health as well?
Your oral health suffers when your teeth are misaligned. Caring for and correcting your crooked teeth helps reduce the risk of periodontal disease. Periodontal disease refers to teeth. It is an infection of the structures around the teeth. Teeth that are not aligned properly in your mouth create what dentists call "malocclusion". Left untreated, malocclusion can lead to periodontal disease and create abnormal amounts of stress on teeth and jaw, which leads to premature wear.
With your straight teeth you will experience healthier gums. With good oral hygiene, the chances of having plaque retention, and tooth decay are reduced. You will experience decreased risk of abnormal wear and trauma. Enjoying the way your straight teeth look when you look in the mirror is an added bonus!
Your physical health suffers when your have misaligned teeth as well. Severe periodontal infection, if untreated, may increase the risk for atherosclerosis-induced conditions such as coronary heart disease, stroke, diabetes complications, adverse pregnancy outcomes, and respiratory issues. Straight teeth are healthier teeth, and ultimately, your straight teeth help you be a healthier individual.
At Thousand Oaks Dental we offer aligners that are almost invisible. They are made from clear plastic that fits over your teeth to effectively move the teeth into place. ClearCorrect and MTM Clear Aligners are removable, making it easy to enjoy the foods you love without hindrance. Show your teeth some love today by calling Dr. Thompson's office today to get you on the road to complete dental and health.
Posted on behalf of Thousand Oaks Dental